Starting With the End in Mind
Why leveraging commercially viable research-grade production sets your program up for future success.
Forge Biologics is a platform-driven CDMO committed to accelerating AAV gene therapy programs at any stage, from preclinical through commercial manufacturing. For those in the discovery phase, Forge provides Blaze Vector Production to help academic scientists and gene therapy developers access turnkey, scalable, research-grade vector production without a long-term commitment.
Producing high-quality AAV vectors for research, preclinical studies, and clinical trials can be complex and resource-intensive. Forge Biologics recognizes this challenge and understands the importance of providing accessible solutions to researchers and developers across all AAV gene therapy journeys.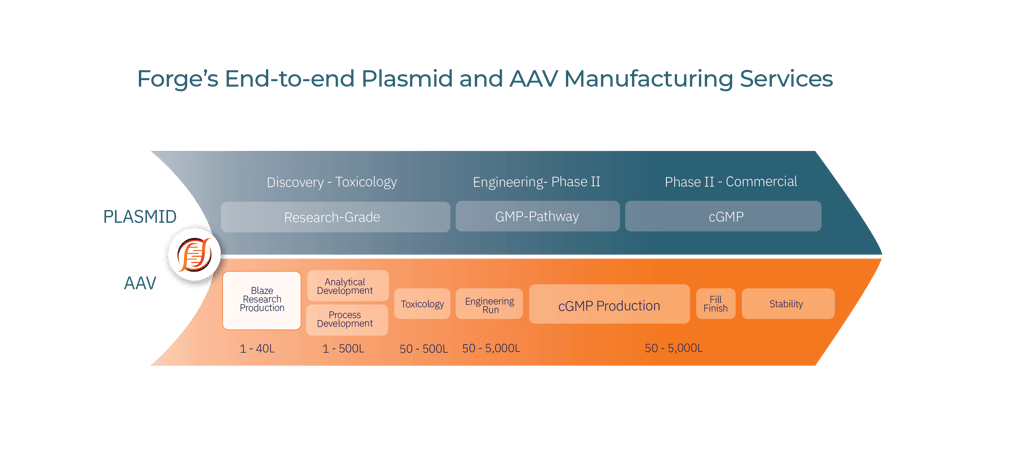 The Blaze Vector Advantage: Leveraging a Commercially Viable Platform
Starting development with a commercially viable platform can support easier development, scale-up, reduce bridging studies, and minimize risks to future approvals. Blaze Vector Production leverages Forge's platform assets including our HEK293 suspension Ignition Cells™ and pEMBR™ ad helper plasmid that have full traceability.
Developers use Blaze Vector Production for:
Generating research-grade AAV
Screening therapeutic candidates
Understanding the manufacturability of their vector
Seamless scale up to cGMP
Blaze Vector Production Features:
1-40L scale
Our proprietary HEK293 suspension Ignition Cells™ that have a clear, well-documented history and are optimized for scalable growth in suspension culture
Established process for most AAV serotypes*
Fast Turnaround and No Commitment
When needing to generate research-grade vector, time is of the essence. Blaze Vector Production offers a rapid turnaround time of 6-8 weeks depending on scale and is a standalone service that does not constrain developers into committing to future work.
The Blaze Vector Production Process
Forge has established a well-defined process for Blaze Vector Production To ensure consistent quality and purity of research grade vector.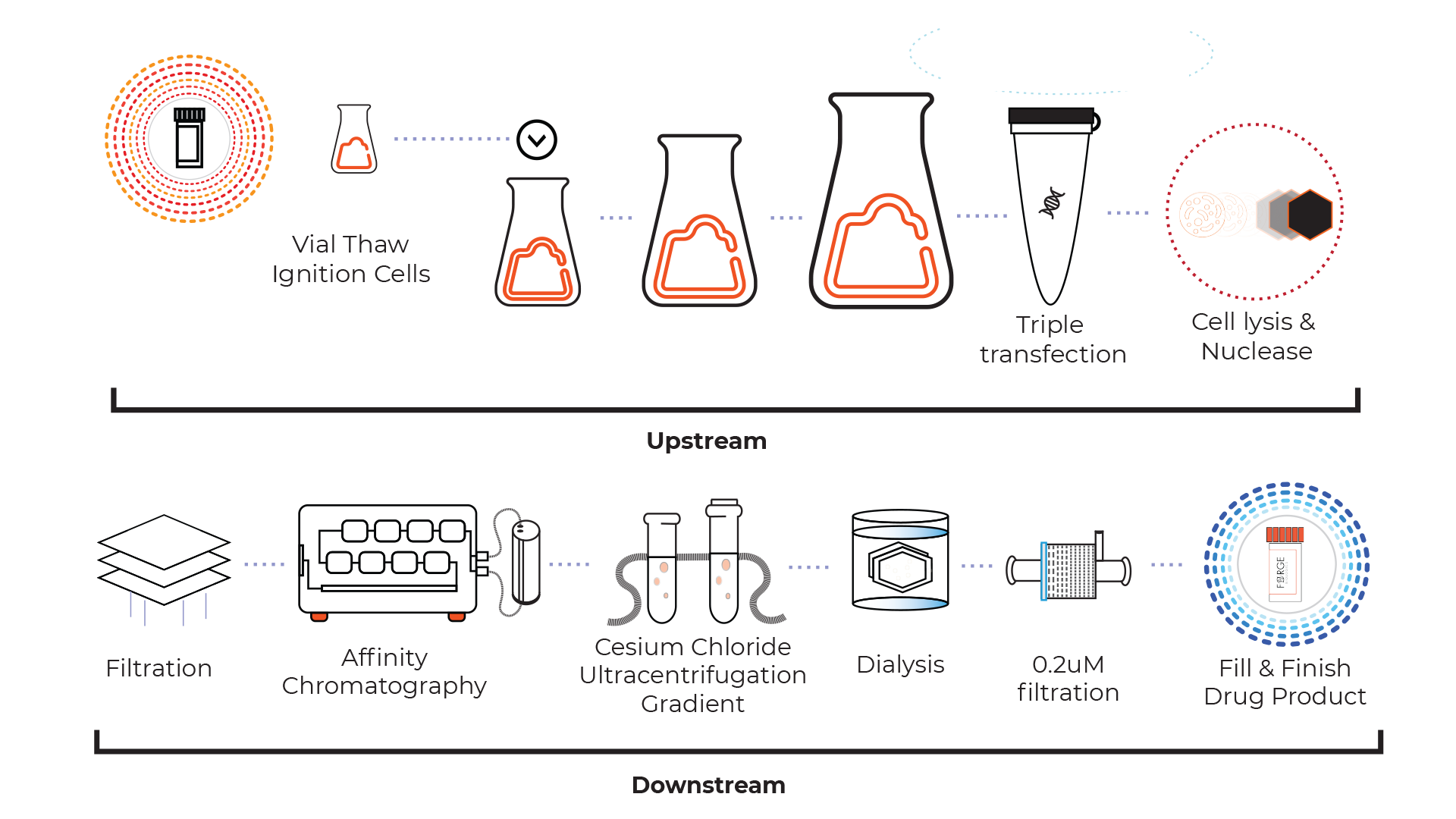 Forge Biologics' Blaze Vector Production is helping advance AAV gene therapy programs worldwide. By providing accessible, scalable, and high-quality research-grade production, Forge Biologics empowers researchers and developers to accelerate the journey from concept to reality, ultimately bringing life-changing therapies to patients in need. Learn more by speaking with our AAV experts.
*AAV1, AAV2, AAV2.7m8, AAV3B, AAV5, AAV6, AAV6.2, AAV7, AAV8, AAV9, AAVrh10, AAVrh74, Anc80, Plus novel serotypes.