At Forge, we believe in honoring the diverse team members who help us achieve great things every day. To commemorate International Day of Women and Girls in Science, Forge turned the spotlight on its women scientists who are driving the field of gene therapy forward, and the local school children they visited who will someday follow in their footsteps. This special day is observed worldwide on February 11th to promote full and equal access to participation in science for women and girls and to celebrate their achievements.

Forge was founded with women in leadership roles and as scientists. We have grown and maintained about 50% women throughout the organization since day one. Forge's women are molecular biologists, GMP technicians, engineers, process development researchers, and visionaries who are helping us deliver on our mission of enabling access to life-changing gene therapies.

These dedicated women founded She Forges in 2021, a women's resource group at Forge dedicated to recruiting, developing, and retaining women in biotech. Through professional development, regular meetings, volunteering, and other activities, Forge women are helping to change and advance the landscape of science.

Building on the momentum from last year's community engagement, the women at Forge went out to help inspire the next generation of scientists at a local elementary school. Our team shared the history of women in science, our scientists' roles in advancing the future of genetic medicine at Forge, and led a hands-on experiment extracting DNA from strawberries.

Check out our video featuring some of Forge's amazing women. They share advice for women and girls who want to enter the field of science, as well as what brought them to Forge.

Join us in honoring the women at Forge and all women and girls in science who are agents of change and moving knowledge forward, for everyone.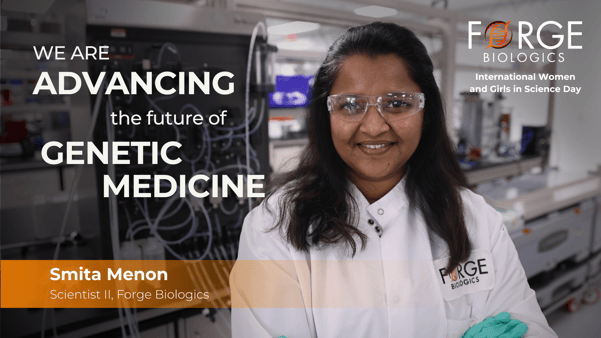 Meet Smita, a Process Development Scientist who has this advice for women looking to get into science.
"Our opinions and contributions matter! All we need to do is speak up and start. Find that motivation which inspires you and put in your 200%."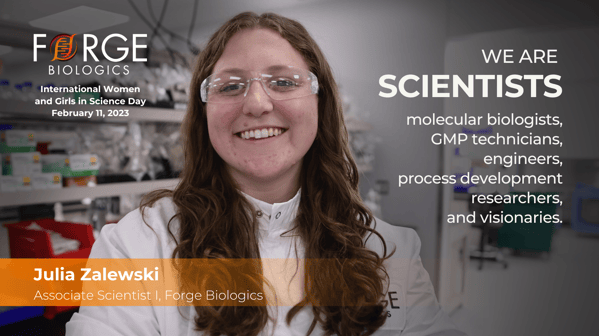 Meet Julia, an Analytical Development Associate Scientist, who shares her inspiration for entering the field of science.
"I first became interested in science when my 7th grade science teacher encouraged all of the girls in the class to enter the field when we got older. He was always teaching us about different women in science and lifting up all women in science."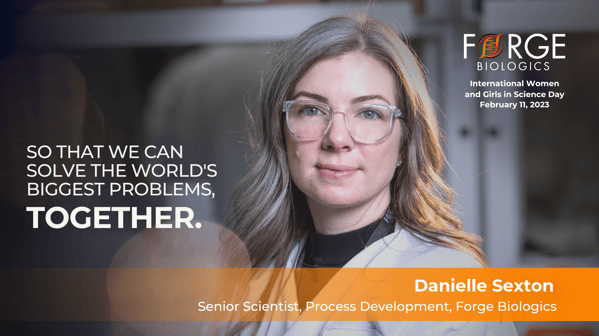 Meet Danielle, a Process Development Scientist who shares advice for women and girls interested in a career like hers.
"Be open to unexpected twists and turns in your journey. You never know where they might lead. There are so many opportunities to contribute to great science that don't involve being at the bench."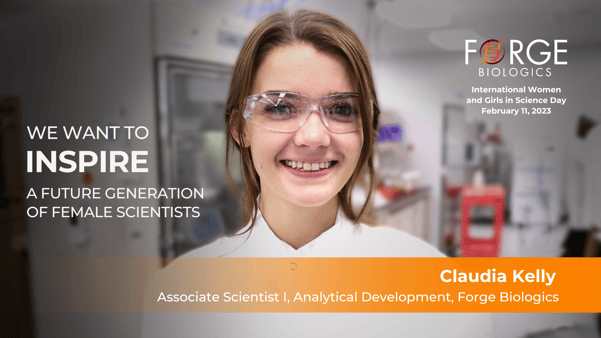 Meet Claudia, an Analytical Development Associate who has this advice for women and girls who are interested in a career in science.
"Ask questions! The field of science has so many pathways, and you deserve to know every opportunity that is available to you."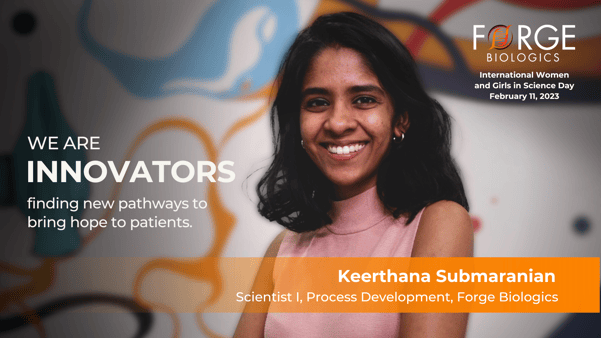 Meet Keerthana, a Process Development Scientist, who shares how she got to where she is.
"A lot of reasons brought me to Forge, but perhaps the greatest reason is the impact that Forge Biologics is making in field of gene therapy. Many opportunities to learn, gain experience and grow come with that impact, and that really excites me."